Find Out How to Give Your Hair the Nutrition It Needs With
Dr. Weaver's HAIR-Bio Formula #1 All Natural Hair Vitamin Formulation!

---
Grow Longer Thicker Hair; Enhanced Faster Hair Growth
WEB SPECIALS
Click anywhere in this box to learn more
Alopecia --- An Overview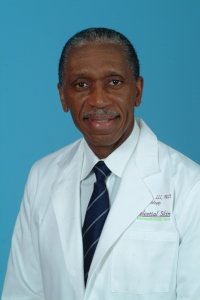 Seymour M. Weaver, III, M.D.
Board Certified Dermatologist
Alopecia is the medical term to describe the loss of hair from the head or body. There are multiple reasons for the occurrence of this type of loss of hair, resulting from both voluntary such as compulsive hair-pulling, and during certain hairstyling routines and involuntary causes including side effects of medical treatment, symptoms of other diseases or conditions, or genetic conditions, such as male pattern baldness..
Types of Alopecia and associated Scalp Diseases are listed below.
Alopecia Areata
This type of hair loss occurs in patches that can range anywhere from minor thinning to large areas of complete baldness, leaving small disconnected patches of retained hair. It is possible that alopecia areata is the result of an autoimmune disorder.
Telogen Effluvium
The hairs of the scalp can suddenly shift into the shedding phase in the hair cycle in large amounts, causing this type of hair loss, which is considered the second most common form. This can be caused by hormonal or nutritional changes or drug use, or result from high stress levels.
Central Centrifugal And Other Scarring Alopecias
This condition is predominant in black women, and It appears as a pattern of progressive hair loss with scarring at the crown of the scalp. The cause is unknown, but may be aggravated by tight braids, or traction as well as chemical irritation or bonding glue. Some cases of scarring develop after severe bacterial or fungal infections.
Androgenetic Alopecia
You have probably heard of this type of hair loss called male or female pattern baldness. This is the most common hair loss problem seen by dermatologists, and is easily identified by the progressive thinning and loss of hair over the head, in an M-shape and at the crown in men, and an all over thinning in women. Usually this condition is hereditary
Tinea Capitis
This highly contagious fungal disease appears as a scaling and redness of the scalp in a round or uneven area that contains stubbled hair loss or dry, flaky patches that look just like dandruff. This type of hair loss is not permanent, and is readily treated with oral and topical anti-fungal medications.
Trichotillomania
This condition results from obsessive hair pulling behaviors, and typically shows up in patchy sections of baldness.
Triangular Alopecia
Triangular areas of partial to complete baldness may show up over the temples in this form of hair loss, with no known cause. Fortunately, medical and surgical treatments are available.
Loose-Anagen Syndrome
Occurring primarily in individuals with fair hair, this condition causes scalp hair to be positioned loosely within the hair follicle. This makes it easy to be accidentally removed when the hair is brushed, combed, washed, or pulled.
Hair Shaft Defects
This category of hair loss causes damage or deformity of the hair shaft itself, through a defect in the construction of the hair or an acquired abnormality.
Trichorrhexis Nodosa is a condition in which small, white nodes develop along the length of the shaft of the hair, allowing the hair fibers to separate and fray, often causing them to break off. This can be caused by excessive brushing, combing and heating of the hair, or by hairstyles that place the hair under stress.
Menkes kinky hair syndrome is an inherited defect that makes it hard for the body to distribute and absorb a sufficient amount of copper. This syndrome makes hair brittle and prone to easy breakage.
Another cause of excessive breakage is trichonodosis, sometimes referred to as knotted hair. Trauma to the hair-shaft of the naturally curly hair of blacks can cause the hairs to become knotted.
Netherton syndrome is an inherited condition that produces short, spiky, lusterless, brittle hair that grows sparsely. Generally, the hair of the scalp can only grow a few centimeters before breakage occurs.
Lichen Planus
Lichen Planus of the scalp is called lichen planopilaris. This inflammatory disorder can cause permanent scarring of bald patches on the scalp. While the cause of this disorder remains a mystery, it is easy to spot by the reddish/purplish patch of plaque that grows larger, along with a loss of hair in the area. Once the disorder is resolved, the skin beneath is left scarred and can no longer grow hair unless it is treated early. The lesions of lichen planopilaris are often itchy, and if you have patches of hair loss with purplish discoloration, early intervention is a must in order to contain the damage to your scalp.
Discoid Lupus Erythematosus
Like lichen planus, this disease can also cause permanent scarring and balding of areas of the scalp. It is an autoimmune disease that damages the skin of the scalp, allowing prominent capillaries to be seen. The bald, scaly red patches that appear on the scalp may be symptom free, or they can itch or feel irritated. Often times the scalp as well as the skin is sensitive to sun exposure, so protection while outdoors is a must! This scalp disease can have other bodily symptoms if allowed to progress, so early medical intervention is critical.
Scleroderma
This disease produces a hardening and tightening of the skin, known as fibrosis. Caused by excessive production of collagen, scleroderma can interfere with hair growth by disrupting the hair follicles when it occurs on the scalp. This disease is most common among women, and is typically seen between the ages of 40 and 60.
Sarcoidosis
Sarcoidosis is an inflammatory condition that produces small lumps of cells within the organs of the body, interfering with the function of the organ. It can affect the lungs, lymph nodes, eyes, liver, and also the skin. When sarcoidosis affects the skin (called cutaneous sarcoidosis) and occurs on the scalp, hair loss results.
Alopecia Neoplastica
In patients with metastatic breast cancer, occasionally an area of firm skin on the scalp develops that appears very similar to a scar. This condition that results in hair loss of the affected area is called alopecia neoplastica.
Syphilitic Alopecia
Exhibited by patch hair loss, often described as "moth eaten", syphilitic alopecia is generally a manifestation of syphilis, which can be diagnosed through microscopic examination or blood testing.
Seborrhoeic Dermatitis
Although the cause of seborrhoeic dermatitis is unknown, we do know that there are two basic types of the disease. One occurs in newborns and babies, and the other is commonly found in middle-aged adults. This disease is characterized by the appearance of yellowish, greasy scales that occur on the scalp, while the underlying skin appears red. Occasionally the condition becomes itchy, and in severe cases, it can also cause diffuse scaling and redness. Friction due to scratching and rubbing can lead to hair loss and breakage, especially around the margins.
Psoriasis
When psoriasis appears on the scalp, it causes inflammation of the skin, due to an increased skin cell turnover rate. It is easy to distinguish by the growth of plaque and thick scales that appear on the scalp and along the hairline. These scales are silver in color, and the plaques themselves are pink. Psoriasis does not usually cause hair loss, even when it is severe, with extensive inflammation of the scalp.
Contact Dermatitis
This inflammatory condition is brought on by contact with an external chemical, or other agent. Contact dermatitis has been linked to the excessive use of medicated shampoo, perm and bleaching lotion and other chemicals, and heat used in hair styling processes. If your skin reacts to an outside agent, you may notice scaly red patches that itch occurring on or around the scalp, sometimes along with swelling and the appearance of vesicles. One of the more common causes of contact dermatitis on the scalp is an allergy to black hair dye. These allergic reactions do not usually cause hair loss.
Traction Alopecia
A type of hair loss due to hair styles that are associated with tension and pulling of the hair
For more information about traction alopecia click here

If you notice symptoms of any of these diseases, or feel that you may be experiencing some scalp problems, you should consult your dermatologist to find out exactly what might be the cause. Your evaluation can include hair analysis, skin scrapings or culture, and in some cases a skin biopsy is performed for diagnostic purposes.
Watch This Video- Dr. Weaver's Hair Loss Book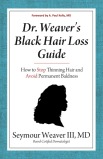 Find Out How to Give Your Hair the Nutrition It Needs With
Dr. Weaver's HAIR-Bio Formula #1 All Natural Hair Vitamin Formulation!

---
Complete the information box below if you would like to:
1) Ask Dr. Weaver a question or
2) Tell Your story about Hair Loss or Other Scalp Conditions
What Other Visitors Have Said
Click below to see contributions from other visitors to this page...