Traction Alopecia Hair Loss Through Fashion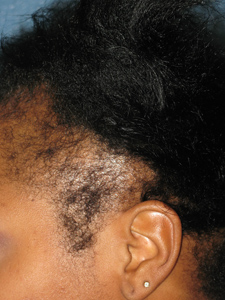 Seymour M. Weaver, III, M.D.
Board Certified Dermatologist
Traction Alopecia occurs because most people who style their hair with braids, ponytails, twists, buns and other forms of pulling hair back do not realize that by wearing these hair styles they are actually engaging in a practice that can cause baldness. This is a type hair loss caused by chronic and ongoing pulling of hair that causes excessive tension on the hair over a prolonged period of time.
There are two types; the first is marginal and the second non-marginal. In the early stages, it is usually reversible however once scaring occurs and hair follicles are damaged beyond repair, the hair will not grow back and permanent hair loss remains. There are a progressive series of events, which leads to Traction Alopecia in either of its forms.
Early in the process there can be itching and redness around the hair follicles as well as the formation of pustules, scaling, and flaking. The scalp looks tight with the appearance of visually being stressed. Finally, bunches of hair that is broken can be found and eventually thinner fine and short hair is generated rather than longer coarser hair. When this condition is more severe, a bald area with no hair growth at all is left behind.
The pattern of hair loss is dependent on the type of styling and grooming pattern that you use. Both types of hair loss, marginal and non-marginal can be seen with isolated traction alopecia.
Marginal alopecia is caused by tight curlers, rollers, and straighteners. This hair loss pattern is created through the patterns established through the use of these various objects.
However, when a non-marginal pattern occurs created by things like chignon, this shows up as hair loss in the area where the bun actually sits. This type of alopecia is more often seen in African Americans because of the styling and chemical straighteners that are used. Female athletes and nurses have also frequently can have this type of alopecia.
Traction alopecia can be found throughout the world in any culture, which uses the pulling back of hair as a method of styling. It can and does lead to permanent hair loss. It is more typical in women then in men but men do see this type of hair loss especially if they grow their hair longer and either braid, or ponytail their hair.
There is no specific age group for this type of alopecia with both young children and adults affected.
The various changes and trends in fashion and culture as well as just plain convenience can have surprising effects when it comes to the conditions behind hair loss. This is a completely reversible form of hair loss as long as it is discovered early enough and treated properly. It is also important to avoid the use of rubber bands and elastic ties on the hair which multiply the amount of tension that develops at the hair follicle structure.
Return to Alopecia Page

Return to Home Page
Complete the information box below if you would like to:
1) Ask Dr. Weaver a question or
2) Tell Your story about Hair Loss or Other Scalp Conditions
What Other Visitors Have Said
Click below to see contributions from other visitors to this page...

Is my hair too far gone?????

I'm a white 21 male with fairly tight curly hair. Problem is when I was younger I used to wear my hair pulled back more often then leaving it down. I finally …