Black Hair Loss
Information Available

Are you a hair stylist noticing a trend toward more and more hair loss among your female clients?
Maybe you're a black woman suffering from hair loss yourself? This can be a frustrating and even devastating condition.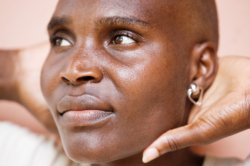 There is a silent epidemic of hair loss and permanent baldness that has been going on for at least 25 or 30 years and it primarily affects African American females.
I have set a goal to create and improve the connection and communication process between the medical professional community and the cosmetology professional community to effectively address the existence, cause, progression, treatment, and prevention of this problem.
Dermatologists who treat African American patients on a regular basis are readily aware of this problem.
The most severe form of hair loss leads to scarring and permanent baldness which is known as Cicatricial alopecia. The Cicatricial Alopecia Research Foundation (C.A.R.F. @ www.carfintl.com ) was founded to support research and find a cure for this condition.
BlackHairMedicalExpert.com is a website developed by Seymour M. Weaver, III, M.D., a board certified dermatologist to help create and disseminate medical information about issues related to Black hair care and provide a process by which hair care professionals and medical professionals and consumers can unite to improve hair health in the Black community and minimize the destructiveness and discomfort caused by hair and scalp diseases.
There is an expression that "Knowledge is Power", so BlackHairMedicalExpert.com operates from the premise that the more the community and professionals know about hair and scalp disorders, the greater the power will be to minimize the pain, suffering, and discomfort that these conditions cause.
---
Synonyms/Other Topical Keywords: black women and hair loss, cause of female hair loss, black hair loss treatments, female baldness, female pattern baldness, baldness female, causes of female baldness, female hormone hair loss, free hair loss baldness information, thinning hair in women, bald women, women alopecia, hormones and hair loss, estrogen and hair loss, african american hair loss woman, hair loss black women, hair loss in black women, black woman and thinning hair, hair loss in black woman, black woman hair loss, hair loss and women, female hair loss questions
---
Complete the information box below if you would like to:
1) Ask Dr. Weaver a question or
2) Tell Your story about Hair Loss or Other Scalp Conditions