Don't Wait Until It is Too Late
To Save Your Hair!
Black Hair Care Expert
---
---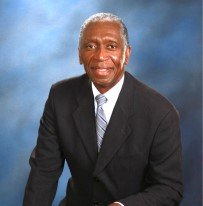 ARE YOU NOTICING THAT YOUR HAIR IS BECOMING
THINNER & THINNER?
 READ THIS PAGE TO LEARN
MEDICAL INFORMATION AND SOLUTONS FOR
BLACK HAIR CARE AND SCALP CONDITIONS
THAT CAUSE THINNING HAIR...
BY DR. SEYMOUR WEAVER
BOARD CERTIFIED DERMATOLOGIST
---
ATTENTION:
Black Women
Hair Stylists
Barbers &
Balding Women

You, or a friend, relative, or client may have experienced the frustration of hair loss, or irritation of the scalp such as itching, bumps, pain or bleeding. You may have tried over-the-counter treatments without improvement or even received medical evaluation and treatment only to still be bothered with the same symptoms.
I am Seymour M. Weaver, III, M.D., a board certified dermatologist who has created this site to provide useful medical information about black hair and scalp diseases to help resolve problems such as those mentioned above.
As a practicing dermatologist for the past 39 years, I have evaluated, diagnosed and treated thousands of individuals with a wide assortment of black hair loss conditions, itching, flaking, infections and inflammation of the scalp for a wide variety of reasons.
Many of these patients I have been able to help with medical treatment, but far too often a significant number of individuals come in for treatment when the scalp condition is irreversible and hair loss is permanent. They did not know what to do to get help. After many encounters like this, I have become aware of a need for providing medical information about black hair care.
The purpose of BlackHairMedicalExpert.com is to provide a forum for information exchange about medical conditions that commonly affect individuals with black hair. The intention is to help provide examples of how various hair and scalp disorders impact black hair as well as solutions for black hair care so that you can have a better quality of life and prevent the misfortune of prolonged scalp irritation as well as permanent scalp injury and hair loss. This will allow you to have healthy hair and wear whatever black hair style you choose.
If you or someone you know has problems with itching, soreness or tenderness of the scalp, or hair loss, you should keep in mind that the information on this website can help to understand what is going on, but it is not substitute for a complete and thorough evaluation by a medical practitioner. As a black hair medical expert I do want you to become more informed and aware of your options to have the healthiest hair and scalp possible.
Find Out How Pure Moroccan Argan Oil Can Help Your Hair & Skin by Clicking on the Image Below or this link

Here Is A Helpful List of The Pages On Our Site,
For Your Convenience: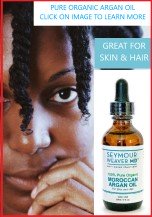 Black Hair Care -- Medical info and tips about Black hair care and scalp diseases for African Americans & hair stylists with Black clients. Provided by dermatologist Seymour M. Weaver, III, M.D.
Hair loss doctor --Dr. Weaver Black Hair Medical Expert, Board Certified Dermatologist. Get black hair care tips and medical hair loss solutions from the Dr. at BlackHairMedicalExpert.com
Black Hair Loss --Find out the causes of female baldness and why alopecia affects black women & how to find the cure for thinning hair from a hair loss doctor & black hair medical expert.
Scalp Diseases --There are many scalp diseases in existence, but there are some that more commonly cause hair loss in African Americans. This website helps black women with thinning hair & stylists.
Cicatricial Alopecia --There are three contributing factors to cicatricial alopecia (or scarring alopecia) which causes female baldness. Find expert medical information on hair loss causes & treatment
Hair Loss Solution --Dr. Weaver offers his expert hair loss advice, womens hair loss treatments, upcoming treatments for hair loss & female hair restoration online. Here at BlackHairMedicalExpert.com
Black Hair Styles Can Have Consequences That Need Medical Attention. Get black hair care advice about african american hair styles from BlackHairMedicalExpert.com.
Black Hair Care Tip --Subscribe to our e-newsletter, get a valuable black hair care tip each week, receive black hair styles information, hair loss advice, upcoming treatments for hair loss, & more!
Black Hair Care Information available from BlackHairMedicalExpert.com's Dr. Weaver. Sign up today for his valuable Free Teleseminar and find out what you can do about black hair loss.
Testimonials --Hair loss doctor Dr. Weaver's patients share their stories of successful scalp disease treatment. Looking for a dermatologist for black skin care? Dr. Weaver is the expert!
Medical Hair Loss & Scalp Relief Forum - Ask Dermatologist & Black Hair Medical Expert, Dr. Seymour Weaver your hair loss & scalp disorder questions right here online and get the help you are seeking.
Hair Loss Specialist --How to make an appointment with renowned hair loss specialist, Dr. Seamour Weaver to get personal treatment options for your hair loss problem.
Contact Hair Loss Doctor Seymour Weaver, M.D. Board certified dermatologist and black hair care expert, with his 25+ year history of diagnosing and treating scalp disorders. Contact him here.
Alopecia overview of types and causes of hair loss
Hair Loss Vitamins Information by Dr. Seymour Weaver to Support Hair Growth