Hair Loss Solution
Now that you have learned about the problems of rapid hair loss, alopecia, female baldness, scalp diseases and more—it's time to tell you about my hair loss solution.
The key steps to a hair loss solution:
1. Make sure that the diagnosis of the condition is accurate so that appropriate treatment can be rendered. Seek appropriate medical help at the first signs of hair loss.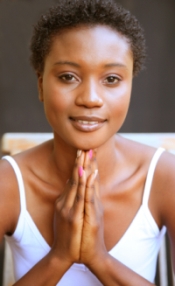 2. Be patient about hair growing back. Understand that hair is programmed to grow at a rate that takes 2 ½ months to grow an inch. Any treatment that causes the scalp to heal will be followed by growth of an inch of hair every 2 ½ months, so it can take up to a year on average for 6 inches of hair to grow. While some individuals have hair that grows quicker than this, most don't.
3. Scalp infections that are bacterial or fungal usually require prescription medication by mouth for several weeks or up to 2 months to enable the scalp to heal. The earlier treatment is started, the better outcome is possible. The later treatment is started, the more damage can occur to your hair follicles.
4. Resist the urge or tendency to try and scratch out flakes that are associated with itchy flaky scalp conditions or psoriasis, it will only make it worse!
5. Hair is protein and amino acids and B-vitamins are the building blocks for protein, so eating a healthy diet or taking hair vitamins or supplements are critical to enabling your body to produce strong healthy hair.
6. Avoid hair styles that put excessive tension or traction on the hair (any development of bumps, scaling, or flaking is a sign of too much tension). Every individual has their own unique ability to tolerate or not tolerate hair styles with tension, so this is an individualized recommendation based upon what your scalp can tolerate without irritation.
7. Seek medical attention as early as possible. Do not wait until permanent baldness has occurred to see a medical doctor. There might not be any treatment available other than a hair transplant or you may not have enough hair to use as a donor site for hair transplant surgery.
8. Understand the role of hair loss products such as topical minoxidil. This product stimulates the growth of hair, but it does not contribute to healing any scalp diseases. It can actually aggravate scalp conditions that are associated with inflammation. It is ok to use on the scalp to boost the growth of hair after healing has occurred from various disease processes. It should not be used when there is any itching, inflammation, or irritation present on the scalp. Also, it will not cause hair to grow in areas where scar tissue is present.
---
Synonyms/Search Terms: treatment for female baldness, natural hair loss prevention, upcoming treatments for hair loss, hair loss treatment review, female pattern baldness treatment, hair loss treatment online, treat baldness, home remedy hair loss, guarantee hair loss treatment, hair loss remedy treatment, laser treatment for hair loss, hair loss natural solution, hair loss remedy treatment, hair loss specialist, best treatment for hair loss, hair loss treatment for woman, hairloss treatments, how to stop hair loss, best hair loss treatment, hair loss advice, alopecia hair loss treatment, female hair restoration, womens hair loss treatments, black hair transplants, natural cure for hair loss, cure for thinning hair, alopecia areata cure