Pseudofolliculitis Barbae ----"Hair Bumps Due To Shaving and Hair Entrapment"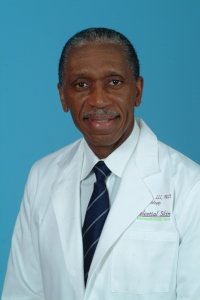 Seymour M. Weaver, III, M.D.
Board Certified Dermatologist Pseudofolliculitis barbae, also known as razor bumps or PFB refers to the medical condition that is characterized by bumpy areas with pimple like lesions and pustules that develop because of ingrown hairs penetrating into the skin and causing a foreign body reaction. In addition to men who shave routinely, women with unwanted facial hair may also develop this condition.
Curly hair in areas of shaving makes it more likely that this condition will develop. It is very common in African-Americans and other ethnic groups with hair that grows in coils, but any racial group can be affected and develop pseudofolliculitis barbae.
Shaving techniques with razors that result in very sharp hairs can be a causative factor in some individuals, so removing the hair with edge up clippers, electric razors, beard trimmers or depilatory powders and creams can decrease the amount of irritation that occurs.
However, there are still individuals who will develop pseudofolliculitis barbae with each of these hair removal techniques so that there is no one shaving technique that is guaranteed to eliminate this problem.
This leads some men to decide to wear a beard which is the most absolute way to stop the problem from occurring. If personal preference and the employment situation is favorable, then this can be the end of it.
However, many men find themselves in employment situations where a beard is not permissible, or suitable for optimal advancement and compensation. So, at times a choice must be made between shaving and enduring skin irritation or wearing facial hair and limiting employment possibilities.
There is an endless supply of skin treatment systems available in cosmetic and skin care areas of pharmacies and some cosmetic counters. While these products are sufficient to control the problem for some, many individuals have tried every product available to treat PFB, but still develop painful bumps and irritation.
The next option to help improve this condition involves the usage of prescription medications including oral and or topical antibiotics, topical anti-inflammatory creams or gels, benzoyl peroxide, tretnoin, as well as chemical peel treatments and intralesional cortisone injections for stubborn bumps that won't go away with medications.
Eflornithine cream (Vaniqa) can be applied to the facial area twice daily to inhibit the enzymes that are involved in the growth of hair. Over a period of months, there may be a steady decrease in the amount of facial hair growth which can cause some improvement in the pseudofolliculitis barbae. This medication is more effective for females than males due to the greater presence of coarser and thicker hair in men.
It is also necessary to release the hairs that are trapped under the skin which eliminates the foreign body reaction triggered by the body's attempt to dissolve the hair. Releasing the hairs is simple if there are one or two bumps present. However, when there are hundreds of bumps present, some men and women spend 30 minutes to an hour a day trying to get hair from underneath the skin. This ritual can also be hazardous since there are times when it is impossible to release the hair without removing skin as well.
The most high tech approach to treating PFB involves the usage of laser hair removal to reduce and suppress the growth of hair. Laser treatment can be ideal for treating PFB because laser light is able to penetrate through the skin surface and reach those hairs that are trapped under the skin. Once the hair stops growing, then the skin can heal and the pain, bumps, itching, and irritation will disappear. Laser treatments may be required to be administered at 6 to 12 week intervals for a period of 6 to 12 months to suppress hair growth. Maintenance treatments can be required at 3 to 6 month intervals or longer . Residual hair growth tends to be finer and lighter than the coarser thicker hair growth before the laser treatments.
Pseudofolliculitis barbae can be mild, moderate, or severe. For men if a suitable shaving technique and topical preparations control the problem then great. If the condition is more stubborn and resistant or the skin is too sensitive for depilatories, then laser hair removal can be an effective alternative or sometimes it is the best first option to use for treatment when there is extensive activity and the skin is sensitive and irritated...
Complete the information box below if you would like to:
1) Ask Dr. Weaver a question or
2) Tell Your story about Hair Loss or Other Scalp Conditions